Haunted Castles In England?
England is a country rich in culture and history. It is a country forged through several thousand years of almost constant warfare. Warfare sometimes involved foreign invaders battling against the united English kingdom and sometimes just involved the English petty kingdoms like Mercia and the kingdom of Wessex. For a long time, the English locals were forced to build great castles and fortresses to defend against Roman armies and barbarian hordes like the Viking raiders who savaged the North coast. It is claimed that there are many haunted castles in England – castles that are occupied by the ghosts of those who died over many centuries. From a castle supposedly haunted by Roman soldiers, to a palace from the darkest legend in the land – this is a list of 10 haunted castles in England.
---


Dover Castle
Built in the 11th century, Dover castle has long stood as a warning to foreign invaders as Dover was usually the first entry point to Britain. It was built on a site that was fortified even during the Iron age, giving rise to it's long and bloody history. In 1216, the French king attempted to invade England but was sent home like a naughty child after failing to capture Dover castle. Dover castle was such a vital strategic stronghold that possession of it was necessary for anyone wanting power in England. During the English civil war, the parliamentarians put a lot of focus on capturing it – and eventually did so without violence. Perhaps this is why the castle is still in good condition, surviving as England's largest castle. Legend tells that a drummer boy was once murdered within the castle – and that his ghost is still present. He can be seen pacing the castle battlements still banging his drum in the same way he died all those years ago. Haunted Castles In England don't get much more historic than this one.
---

Castle Rising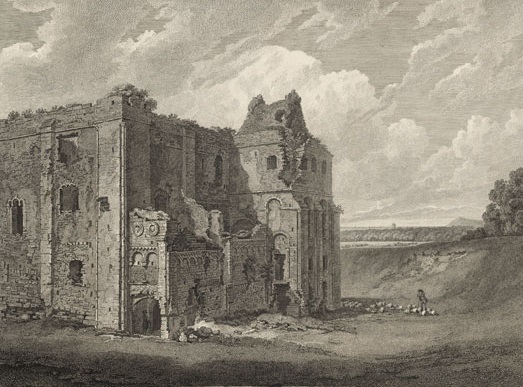 Castle Rising was built in the 12th century by a Norman soldier. It never saw much battle and was more of a fortified manor house for nobles. At one point it was even owned by the Black Prince and eventually became little more than a hunting location. It featured an on-site deer park. A deer park was an enclosed area of entrapped animals for the sole purpose of hunting them. I guess business was slow because by the mid-16th century it was starting to decay. 200 years later it was in ruins, and it still is to this day. During the 19th century, almost everything inspired a sense of wonder and romance. So upon seeing an abandoned medieval castle in ruins and overgrown with plants, local legends would spring to mind. The castle was once lived in by a woman who's lover was executed for the murder of Edward II, who was the former King of England. The woman was then imprisoned within the castle and never allowed to leave. The confinement left her manic and deranged. It is said that her wicked insane laughter can still be heard within the castle.
---

Ludlow Castle
The town of Ludlow features one of England's most historic castles. Now in ruins, Ludlow castle was built in the late 11th century around the time of the Norman conquest of England. The castle was an important location during the Second Barons War, which was a civil war between the English king and rebellious noblemen. It continued to be an important location through the English Civil war when it was fought over between the royalists and the parliamentarians until being taken by the parliamentarians in 1646. Towards the end of the century, the castle became neglected and swiftly fell into ruin. Legend tells that a woman once dropped a rope from one of the towers so that her lover may enter the castle. But to her surprise, the castle was instead entered by dozens of unrecognisable soldiers who killed everyone inside. The castle is said to be occupied by the ghost of that woman, who is still in that tower crying over her mistake.
---


Oxford Castle
Oxford castle is a prime tourist attraction. It was built in the 11th century by a Norman noble called Robert D'Oyly. It soon became a vital military stronghold in relation to power in Oxfordshire with large fortifications and a grand moat. But as the city of Oxford grew, it's realistic defensive capability slowly declined. It saw battle return during the Civil War when much of it was destroyed by parliamentarian forces, as Oxford was used as the capital of royalist operation. The castle really couldn't defend well against the parliamentarians as it didn't even still have a moat at this point. As it was almost completely in ruins, the castle went on to be used as a prison. It was only closed as a prison in the 1990s. With it's long and bizarre history, Oxford castle in one of the most haunted castles in England. Prison guards reported paranormal activity for several centuries; they claimed to have heard mysterious banging noises. Following the mysterious noises, the guards were confronted by the sight of ghostly shadow people.
---

Berry Pomeroy Castle
Berry Pomeroy Castle is a castle surrounding a grand Tudor mansion. Built by feudal lords in the 15th century, it is surrounded by beautiful woodland and features a large defensive tower with gun ports, making it the perfect example of a European castle of the period. The owner of the castle declared himself a royalist during the English civil war… leading to his arrest and imprisonment in London. His castle was then ransacked by the parliamentarians. Over the next few centuries the castle fell into ruin and was overgrown with ivy by the Victorian era. The romantic appearance of it led to many legends becoming attached to the whole area. One legend describes two ghosts that haunt the castle: the white lady, and the blue lady. The white lady haunts the dungeons where she died. Her evil sister actually locked her in the dungeons because her beauty was enough to make her sister jealous. The blue lady haunts the defensive tower. She cries for the help of passing travellers. When someone enter to castle to help her, she throws them from it's window.
---

Berkeley Castle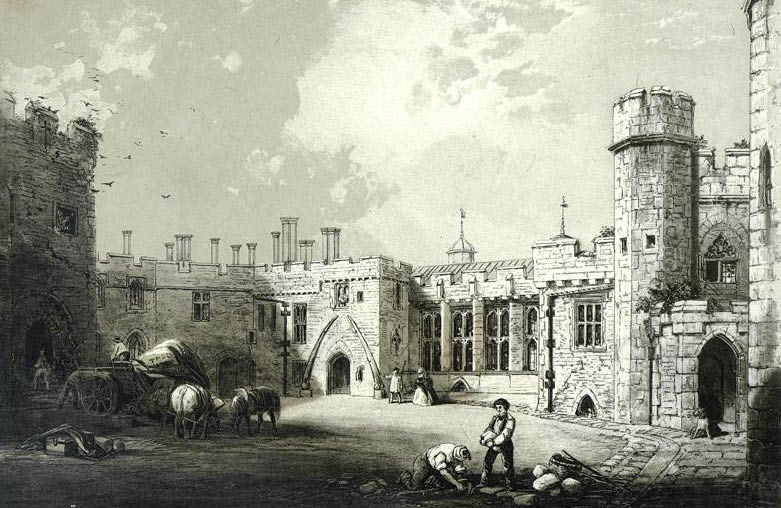 As far as Haunted Castles In England go, Berkeley is among the most bizarre. Berkeley castle was built in the 11th century and was owned for most of it's life by the Berkeley castle. It really hasn't seen much excitement since it's construction, however it is traditionally thought of as the location where King Edward II was murdered in 1327. Edward II was the king of England but in 1327 he lost power. He was taken to Berkeley castle and imprisoned there. After being rescued by a force of his supporters… he was recaptured and taken back to the castle. Tradition has it that he was then murdered in a cell at the castle that can still be found today. He is said to have been killed on the 21st of September. It is also said that his tortured spirit returns to the castle once a year on that day. Visit the castle on the 21st of September and you might hear his screams of pain frozen in time from when he was stabbed to death with a red hot poker.
---

Tutbury Castle
Tutbury castle was rebuilt several times with it's oldest building going back to the 12th century. Today, the castle is in ruins but still stands as a monument to Medieval England. It is most famous as the place Mary, Queen of Scots was imprisoned in England. She was forced to flee Scotland after losing power to her own son. She was hoping for the protection of the English queen Elizabeth I, who was her cousin. But Elizabeth held her captive for 18 years before having her executed. Her ghost is said to have never left Tutbury castle. In 2004, forty people reported seeing her standing on top of the tower dressed in a white gown. Even know this is one of the most haunted castles in England, it's hard to ignore 40 people all claiming to have seen the same thing but there are many more ghosts of the castle. One of which is a young boy who sits in the Grand Hall. He is said to be so lifelike that most people walk past him without even realising they have seen a ghost.
---

Tamworth Castle
In the 11th century, Norman invaders of England built a castle on the site of an old fortification used by the Kingdom of Mercia. Only one other castle in England has a larger Motte than Tamworth, and that is number 1 on this list. As it is located in the Midlands, it's military importance swiftly fell as invaders rarely reached that far. But it did see brief violence during the English civil war when it was captured by parliamentarians. By the 19th century is was just being used as rented accommodation. The castle is said to be haunted by the black lady and the white lady. You might have noticed than several haunted castles in England are haunted by white ladies, England is weird like that.
The black lady is the ghost of a catholic nun who was raised from the dead as an act of revenge by a group of other nuns who were forced out of the castle. The white lady was once locked in the castle tower where she eventually starved to death. She now wanders the castle looking to gouge out the eyes of the man who locked her in the tower.
---

Pendennis Castle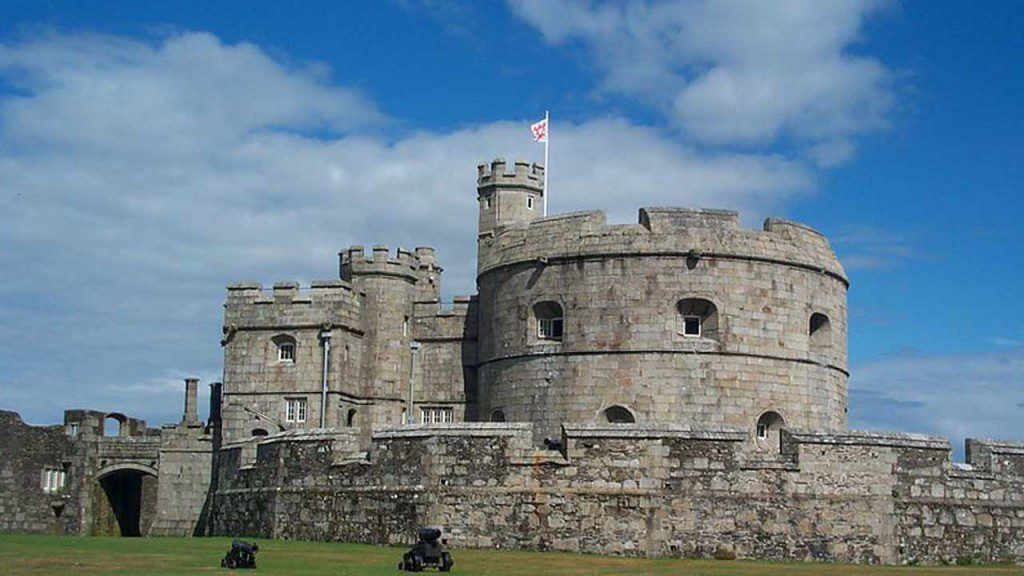 Pendennis castle was built by Henry VIII on the coast of Cornwall to discourage a French invasion. The castle was damaged during the English civil war when the royalists held off a siege by parliamentarian forces for quite a long time. During the Napoleonic wars, Pendennis Castle was rapidly modernised and it was operated through world war one and two. Today it is but a tourist attraction. Even know it was only built in the 17th century, legend tells that the site is haunted by the spirits of long dead Roman soldiers. Who draw their swords and charge at visitors on dark nights. They aren't able to hurt humans but it's still quite scary, making it one of the most haunted castles in England.
---

Windsor Castle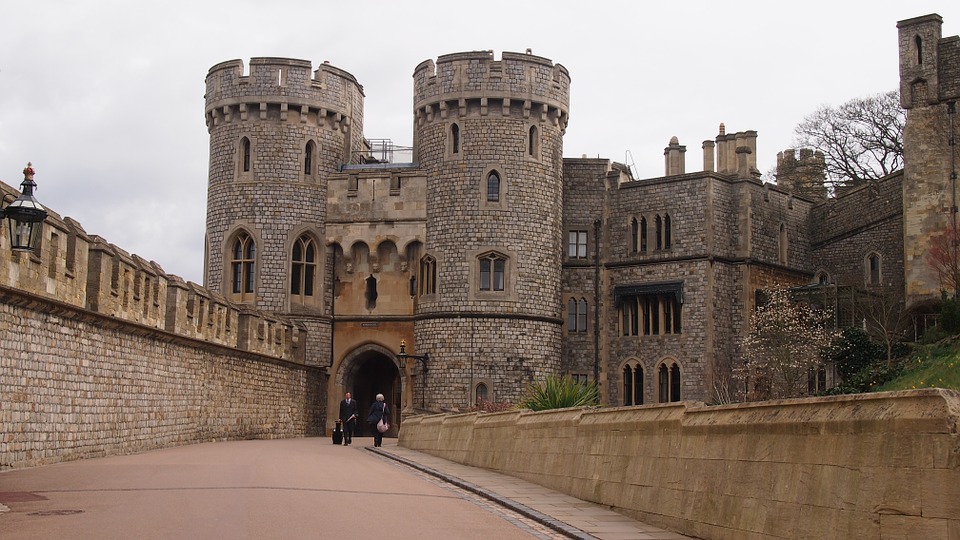 Windsor Castle was built by William the Conqueror as part of a network of fortifications protecting London. 950 years later it remains a residence of the British Royal family. This grand history is reflected in the legends surrounding the castle. The notorious ghost of Henry VIII is said to walk up and down the corridors looking and sounding extremely angry… and sometimes even shouting at visitors. The castle is also said to be haunted by the ghost of King George III. George III suffered from madness during his last years; his ghost is said to reflect this madness, spying on people who visit the castle as if they were plotting to kill him. Windsor is the last on our list of Haunted Castles In England.
---
 Want more lists like 10 Haunted Castles In England?