Louisiana is home to many unique legends. My personal favorite is the tale of the outlaw J Villa, a noble criminal some would say, but others would call her an insane cattle rustler. But some legends and tales from local lore are much darker than the story of a woman who illegally sold barrels full of marshmallows. New Orleans is known for voodoo and the various myths surrounding that culture. As you'd expect there are countless locations within the old city which are said to be haunted by terrifying forces. I've been attempting to write a joke about the area also being haunted by the legacy of Hurricane Katrina, but they all end up just sounding harsh, rather than funny. It would just be mean. To make up for the lack of brutal jokes here are ten haunted places in New Orleans.
---


Saint Louis Cemetery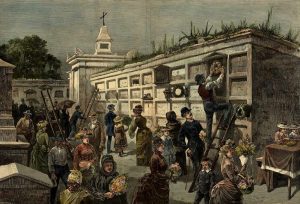 New Orleans has 3 separate cemeteries by this name. The oldest was opened back in 1789. It's this cemetery which is said to be haunted, haunted by the ghost of Marie Laveau. She's more well known as "The Voodoo Queen" as she was a renowned practitioner of black magic in 19th century New Orleans. Her ghost has been reportedly seen walking though the cemetery on various occasions. She will not bother you if you're respectful to the cemetery and to her. But if you disrespect her or voodoo beliefs, she will get violent, scratching or shoving at you. She won't cause any serious injury though, just a few other-worldly bitch slaps.
---

Louisiana Supreme Court Building
The Louisiana Supreme Court was established shortly after Louisiana was sold to America. It's a fairly dull building and institution, or at least it would be if not for the dozens of ghost stories surrounding it. Most of these stories have been told by those employed there, and usually describe the spirits of people who died in the courthouse long ago. Legend tells that 2 witnesses in a trial were shot dead at the courthouse were shot dead in the 1930s. Their weeping ghosts are now sometimes seen aimlessly pacing through the corridors. Visit on dark nights and you might hear the faint sounds of footsteps and crying. You may also hear the droning of boorish lawyers, but there's nothing supernatural about that.
---

Muriel's Séance Lounge
With a name like that, the place better be haunted or I want my money back. Maybe that's why the owners of this restaurant take every opportunity to promote the place as haunted. It sounds like an invented marketing ploy to me, but many customers do claim to have seen paranormal on goings while inside the restaurant. It's said a man who owned the same building once lost in gambling, and with nothing left to live for, hanged himself inside it. It's his ghost that is still said to call the building home. It's claimed objects will sometimes levitate within the restaurant and be violently thrown against the walls.
---


The Morgue Bar and Lounge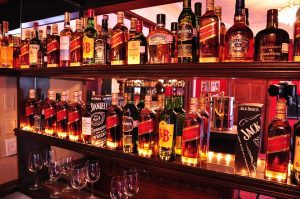 At one time the Morgue Bar and Lounge was actually a morgue. In 1853, ten thousand people died in New Orleans due to an outbreak of yellow fever. As the city's only official morgue, the building saw a lot of use. But after a while it was judged antiquated fell out of use. It wasn't long before some fucking maniac decided the old morgue could easily be transformed into a bar, because nothing is more fitting for an industry so demanding of cleanliness. It's said the building is haunted by the spirit of a teenage girl. She worked at the morgue and would steal jewelry from corpses in the 19th century. Women visiting the bar should be careful with their valuables, as the ghost still has a fondness for them.
---

Hotel Monteleone

This hotel is well known for it's rotating carousel piano bar, whatever the fuck that means. Apparently it's occupied by the ghosts of countless former guests, and also of people who previously performed at the hotel. One of the more common spirits is that of a Jazz singer. So if you like jazz music and terrifying apparitions, this might be a good place for you to stay. Probably not the best place for a relaxing time though.
---

Metairie Cemetery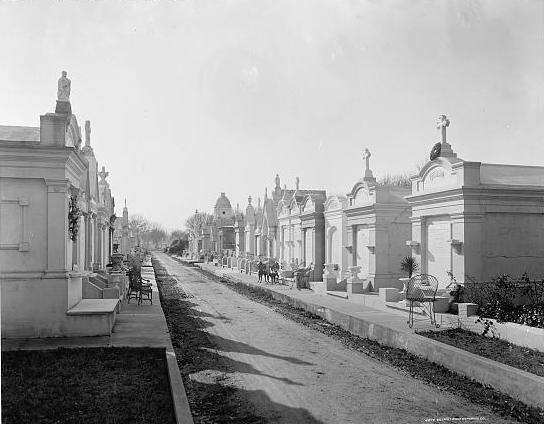 Metairie Cemetery was built in 1872, on the site of a horse racist course. With impressive tombs and sculptures, it's much more interesting than most cemeteries. It seems considerably less morbid than that morgue restaurant, which is quite an achievement. It's said that within a decade of the cemetery's construction a local police officer was assassinated by the mafia. It was in retaliation to a police crackdown on Italian organized crime. Local legend tells that the ghost of that police officer can now be found floating through the Metairie Cemetery, moaning and attempting to warn others not to get involved in crime.
---

Le Pavillon Hotel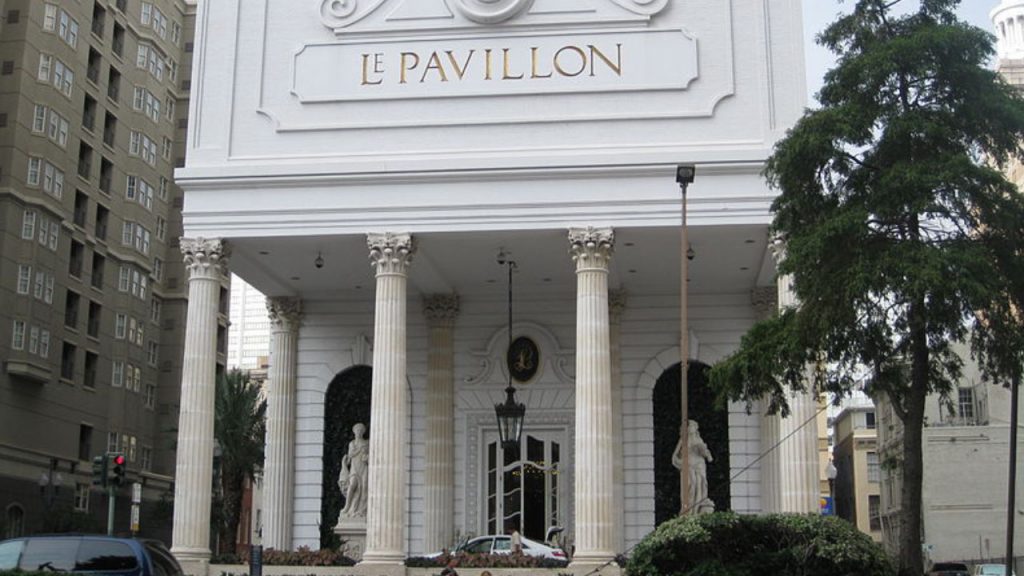 Le Pavillon Hotel is often described as beautiful and grand, but is more often described as haunted. It's said the spirits of former guests emerge at night to harass current guests. Many have reported feeling pushed or brushed passed when no one else was around. It's said you can see the shadowy figures of poltergeists moving in certain lights. People have reported the shower and lights in their rooms turn themselves on and off again. It's also said the ghost of a young girl lurks in the hotel lobby, where she regularly bumps into confused guests as they arrive. Probably not the place to stay for those of you wanting to avoid ghostly harassment.
---

Gallier Hall
Gallier Hall is a wonderful example of the Greek Revival movement of architecture the 19th century saw. Since it's construction in the mid 18 hundreds, it's been an important building as far as politics in concerned, and still today it's still used for civic functions. It's said that the vengeful ghosts of confederate soldiers can sometimes be seen on the steps of Gallier Hall, completely unaware that the war is over and that their side lost. I can't say for sure but I don't think it's a good idea to inform them of this. The ghost of a confederate General known as "The Beast" is the most notorious of such soldiers.
---

The Jimani House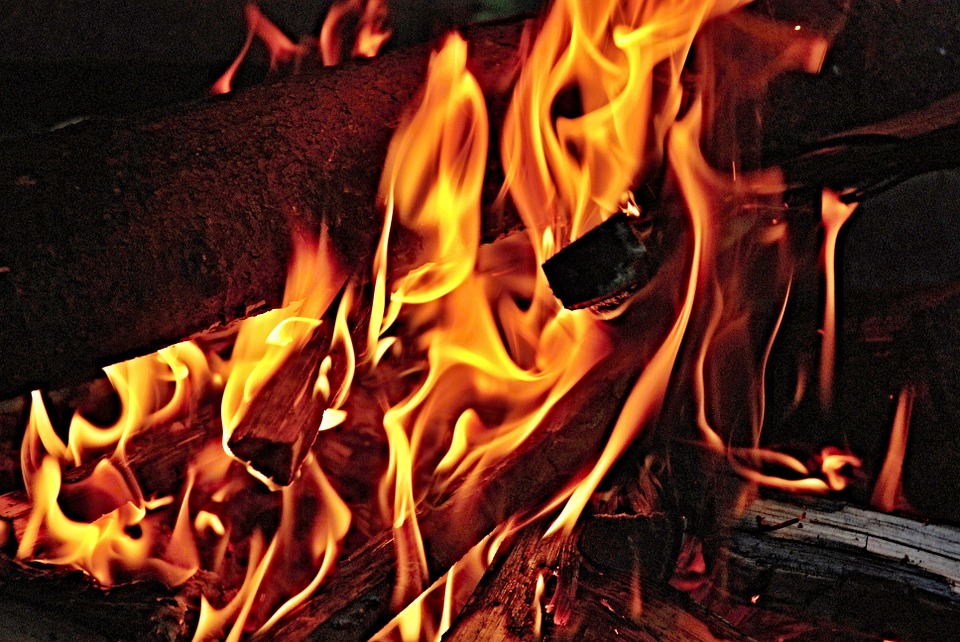 The UpStairs Lounge was a popular gay bar. But in 1973 the bar was set on fire while many people remained inside. As some customers found themselves stuck on the second floor, 32 people died, some of smoke inhalation or burning, and others of falling to death in their attempt to escape the blaze. The prime suspect was never charged with starting the fire and it remains an unsolved mystery. That same building now houses The Jimani House, a different bar. It's said the screams of those who died burning, and their scratching at the blocked doorway, can still be heard within that building.
---

Beauregard-Keyes House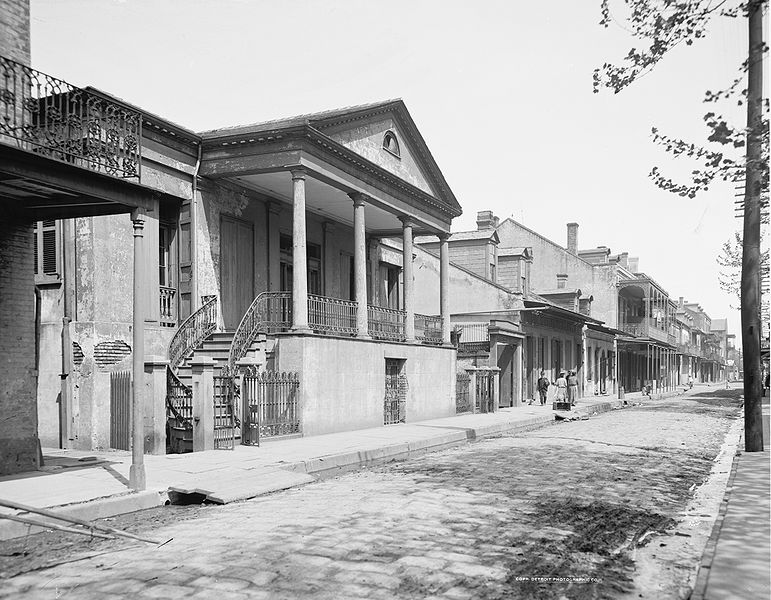 The Beauregard-Keyes House is an important historical residence in New Orleans. It's name comes from 2 of the more noteworthy figures who at one time lived here. The first is P. G. T. Beauregard, a confederate General who attained great wealth by promoting the lottery in Louisiana. The second is Frances Keyes, an accomplished author. It's said the ghost of P. G. T. Beauregard can be seen on misty mornings, carrying out military drills with a group of his ghostly confederate soldiers.
---
In researching haunted places in New Orleans I've noticed the ridiculous number of hotels and restaurants which are claimed by their owners to be haunted. Cashing in on the placebo effect, I'm sure most of the ghost stories have been invented for marketing purposes. No doubt many of the most haunted places in New Orleans aren't even believed to be haunted by those who live there.