Everest is earth's highest mountain, it's an icy nightmare, of a mountain to climb. Littered with frozen bodies numbering over 200. Everest is one of the most dangerous mountains in the world to climb, and mortality rates are high. Once you reach 8,000 feet you enter, what's accurately called the death zone. At this stage oxygen is lower, it becomes harder for you to breathe, and the environment takes a harsher toll on your body. The only reason most Everest climbers can scale the mountain is because of a unique group of people known as the Sherpa. The Sherpa are a tribe of people who are famous for their mountaineering skills.
It's by using them as guides that most people are successful at climbing Everest. It's important to respect the Sherpas, as one group wealthy Everest climbers found out. Apparently they had disrespected the Sherpas, and once they had climbed high into the mountain, the 100 Sherpas turned to them, and said "now we kill you".
---

Anatoli Boukreev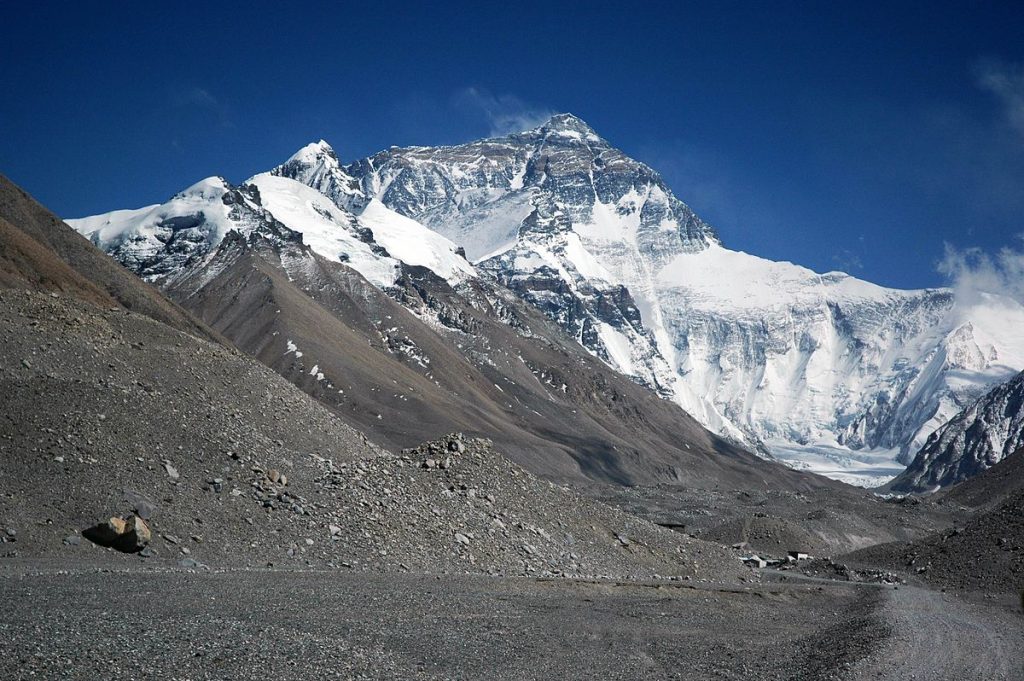 Boukreev is probably one of the bravest Everest climbers in history, considering the feat he pulled on Everest. He had just climbed Everest without oxygen, and was likely completely exhausted. While on his way down, he heard of a group of people higher up who had gotten into a dangerous storm. As exhausted as he likely was, he ran out of his tent, in order to try and save them. It was pitch black, and so dangerous that 8 people died that day. As unlikely as it was, Boukreev managed to find 3 people, and bring them back to his tent. He became famous after saving people in this disaster in 1996. Boukreev climbed 10 of the 14 highest peaks in the world, without oxygen.
---

Apa Sherpa
Apa Sherpa has climbed Everest almost every year for over twenty years. The only years he didn't climb Everest were 1996 and 2001. He reached the summit twice in 1992. He holds the world record for most Everest climbs, having successfully climbed it 21 times. Apa is one of the most famous Sherpas in the world, and Nepal's biggest celebrity. He retired in 2011 after his 21st ascent of Everest when he was 51. He retired in order to keep a promise to his wife to stop climbing after his 21st ascent, likely because of how dangerous it was. Apa has been through the Khumba Icefall about 1000 times, which is considered one of the most dangerous parts of climbing Everest.
---

Tenzing Norgay
Norgay along with Edmund Hillary, were the first two people in the world to climb to the summit of Everest. Many different countries were competing to see who could reach the summit first, and the British put together a gigantic team in order to make sure that they won it before anyone else. It was led by an officer who fought during World War Two, and involved over 300 people. He used military tactics to organise the expedition.
Although the team involved hundreds of people, there were only 10 climbers, and the rest were just there to support them. Late in the game, two climbers were picked to be the ones that tried to make it to the summit. Tenzing and Hillary were the ones who were picked. Tenzing had already saved Hillary's life. When Hillary was falling, Tenzing secured his rope using his axe, and managed to stop him from dying. Tenzing was likely picked because of this.
---

Sir Edmund Hillary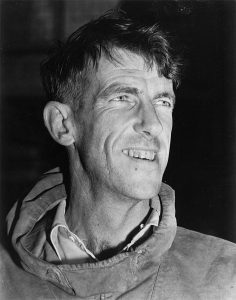 Sir Edmund was unexpectedly paired with Tenzing for the summit. Climbing the mountain was treacherous, and exhausting. Halfway through Hillary woke up to find his boots had frozen in the snow, and had to warm them up before being able to continue. Hillary claims that they both reached Everest at the same time. They took some pictures at the top to prove they had done it, and left an offering at the mountaintop. Tenzing left chocolates, and Hillary left a cross he was gifted by Hunt.
---

Eric Shipton
Shipton is one the pioneers of Everest mountaineers. Shipton was very active in the 1930's when no one even really knew how to climb Everest. Almost all the expeditions during that decade involved him in some way. He explored the area, hoping to find a good route up, and eventually discovered the route up the Khumbu Glacier. In 1951 he also photographed the footprints of a Yeti. In 1931 he climbed higher than anyone in history at the time, by reaching the summit of Kamet, 7756 metres high.
Eric Shipton also had an impact of the lives and careers of two famous Everest climbers, Tenzing Norway, and Edmund Hillary. He pick both of them as team members on a whim. He picked Hillary because he Hillary was from New Zealand, and he had fond memories of a New Zealander he used to know, and he picked Norgay because he liked his smile.
---

Nawang Gombu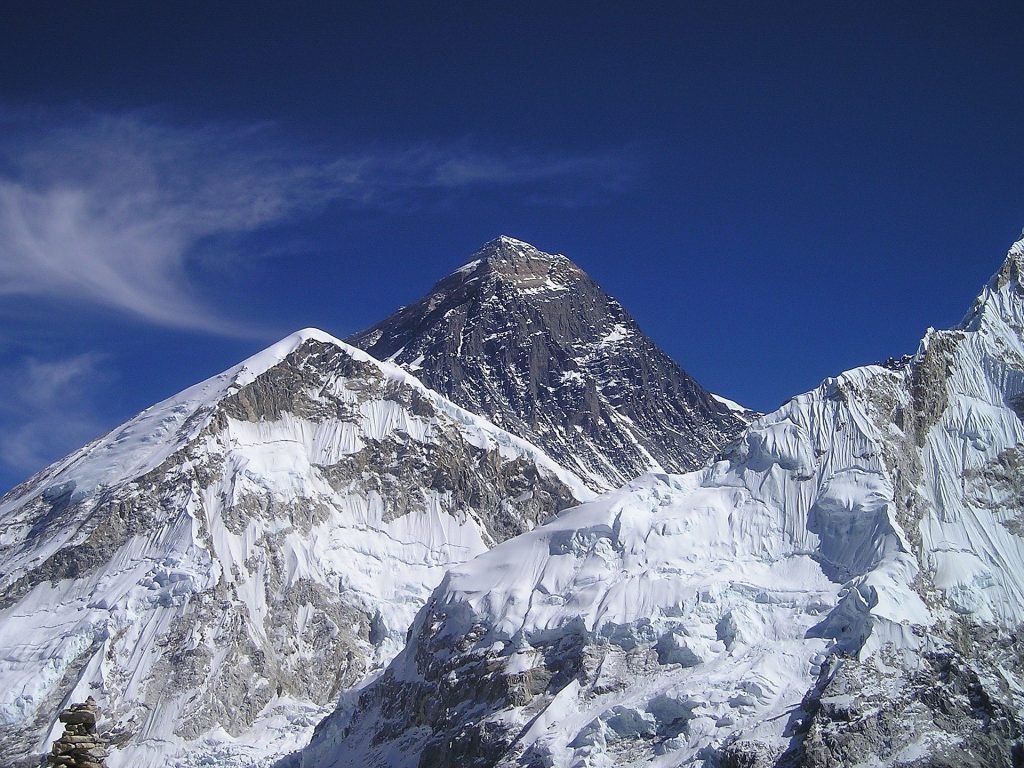 Gombu is Tenzing Norgay's nephew, and the first man to climb Everest twice. It was about 20 years before anyone would break his record. He was the youngest member of the 1953 Everest Summit. He was only 17 at the time, and had only managed to join the expedition after escaping a monastery, and finding Norgay. Gombu begged Norgay let him join the team, and he did. Norgay had trouble at first, as he was overweight, and had less experience than the rest, but managed to pull through.
---

Babu Chiri Sherpa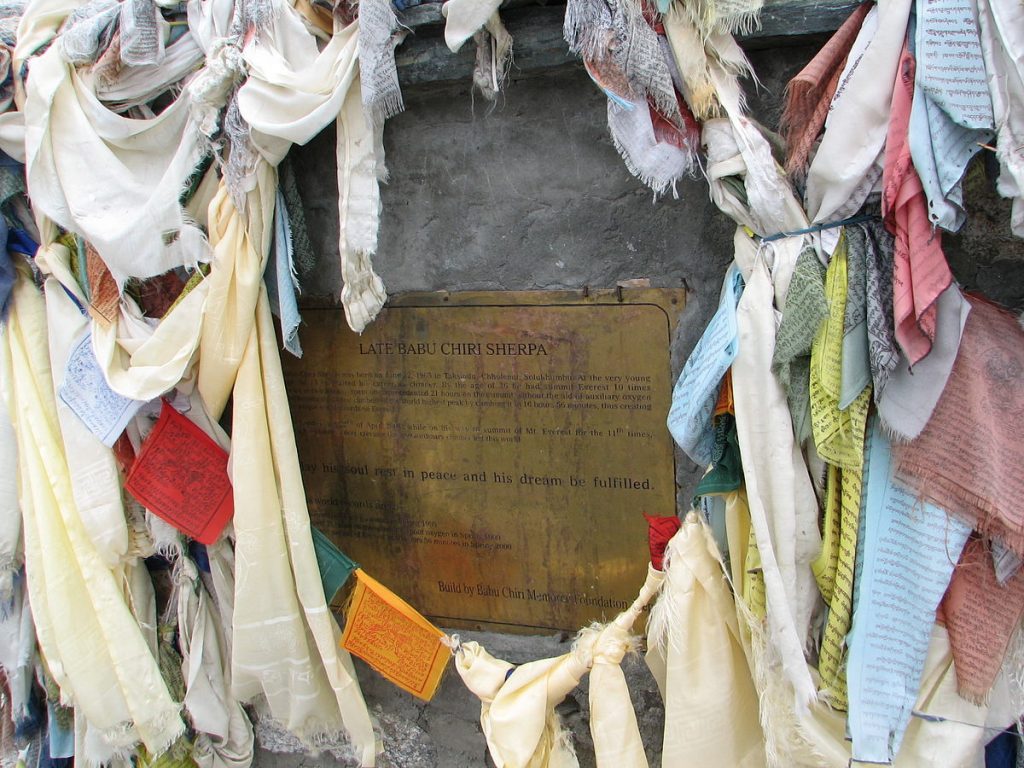 Babu Chiri Sherpa is one of the most legendary Everest climbers in climbing history, and holds many records. He reached the summit 10 times, spent 21 hours on the summit without auxiliary oxygen, and climbed Everest faster than anyone in history (16 hours and 56 minutes). Babu had no formal education, because there weren't any schools in the area he grew up in, which explains why his dream was to build schools in Nepal. He died on his 11th expedition, after falling into a crevasse.
---

Phurba Tashi Sherpa
Phurba Tashi has climbed more eight-thousanders (mountains higher than 8,000 metres) than anyone in history. He climbed 30 mountains higher than 8,00 metres, Everest 21 times, Cho Oyu five times, Maslu twice, and Shishapangma and Lhotse once each. He's been the star of many Everest documentaries, and many of his climbs were a part of the documentaries. He climbed Everest three times in one season alone of "Sherpa".
---

George Mallory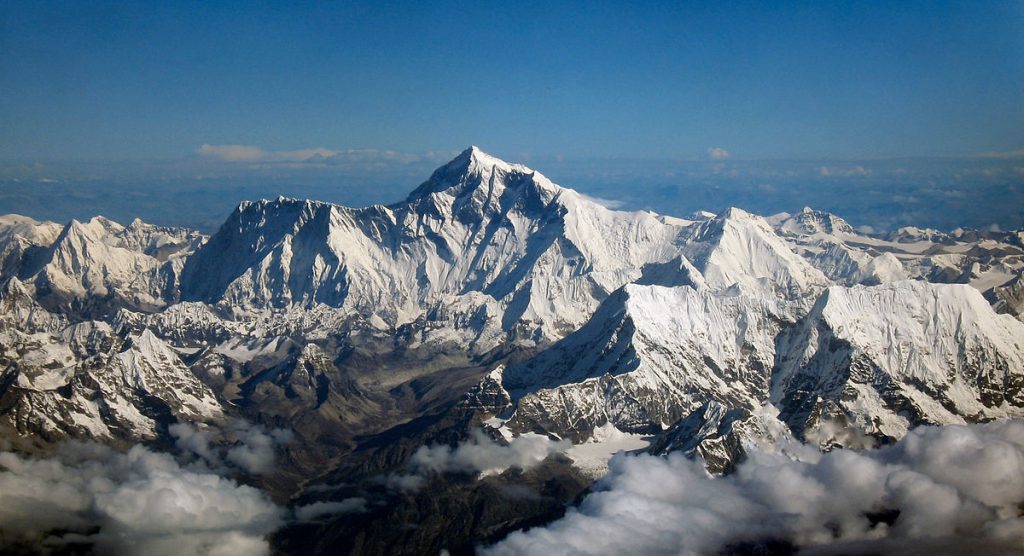 George Mallory was a mountaineer who died climbing Everest, and it's possible that he he actually managed to reach the summit before Edmund Hillary did. He died climbing the mountain in 1924, which would mean he reached the summit many years before anyone else. They were last seen only 800 feet from the summit. After that point they simply disappeared never to be seen again. That is until May 1999 when his remains were finally discovered. Mallory's death is incredibly mysterious and nobody knows for certain how he died. His head had a giant, ice axe sized puncture wound in it, leading some to speculate that he was murdered. However his axe could have easily just struck his head after bouncing off a rock.
---

Reinhold Messner
Messner is one of the only man in the world to climb Everest without supplementary oxygen, a feat considered impossible. He climbed it alone, even though it was considered scientifically impossible, and scientists had to reconsider the biological limits of human beings. "I am nothing more than a single, narrow gasping lung, floating over the mists and summits," How Messner described himself above Everest. Messner is also the first person to climb all 14 mountains above 26,000 ft. He's also crossed the Gobi Desert alone, and was the first person to cross Antarctica and Greenland, without dogs sleds or snowmobiles. He's without a doubt one of the greatest Everest climbers.