"Of all the talents bestowed upon men, none is so precious as the gift of oratory. He who enjoys it wields a power more durable than that of a great king. He is an independent force in the world. Abandoned by his party, betrayed by his friends, stripped of his offices, whoever can command this power is still formidable." During World War Two, it was a series of great Winston Churchill speeches that kept up Britain's fighting spirit, and led us to victory. His power as an orator is among the greatest.
---


The Liberties Of Britain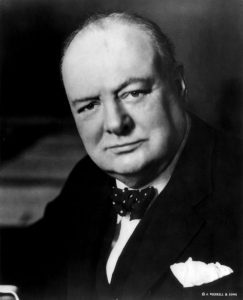 "I would repeat that to all those who ask, why not give Tariff Reform a chance? The choice is irrevocable, in your lifetime at any rate. Once the fateful step has been taken, retreat is impossible. You would have a great network of trusts woven together, joined together on the simple principle of You scratch my back and I will scratch yours, all trying to organise themselves to get advantages and favours from the Government, all sitting down to besiege the Government through their millionaire bosses, their political organisations, their multitudes of shareholders, through the working men whose interests would be associated with these selfish trade organisations. The whole force of this great network of tariff-fed trusts will be brought to bear on the representatives of the people in the House of Commons. If you have at the one end this vast organisation and at the other end the veto of the House of Lords, able to dismiss by a contemptuous gesture any Government, why, they will play battledore and shuttlecock (Badminton) with your liberties."
---

Blood, Toil, Tears, And Sweat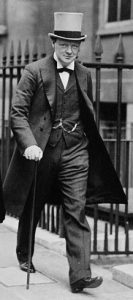 "You ask, what is our policy? I will say: It is to wage war, by sea, land and air, with all our might and with all the strength that God can give us: to wage war against a monstrous tyranny, never surpassed in the dark, lamentable catalogue of human crime. That is our policy. You ask, What is our aim? I can answer in one word: Victory, victory, at all costs, victory, in spite of all terror, victory, however long and hard the road may be; for without victory, there is no survival. Let that be realised; no survival for the British Empire; no survival for all that the British Empire has stood for, no survival for the urge and impulse of the ages, that mankind will move forward towards its goal. But I take up my task with buoyancy and hope. I feel sure that our cause will not be suffered to fail among men. At this time I feel entitled to claim the aid of all, and I say, Come, then, let us go forward together with our united strength."
---

Their Finest Hour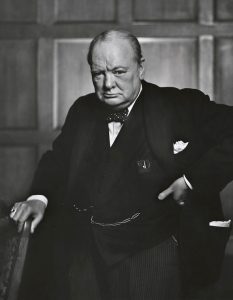 "What General Weygand called the Battle of France is over. I expect that the Battle of Britain is about to begin. Upon this battle depends the survival of Christian civilization. Upon it depends our own British life, and the long continuity of our institutions and our Empire. The whole fury and might of the enemy must very soon be turned on us. Hitler knows that he will have to break us in this Island or lose the war. If we can stand up to him, all Europe may be free and the life of the world may move forward into broad, sunlit uplands. But if we fail, then the whole world, including the United States, including all that we have known and cared for, will sink into the abyss of a new Dark Age made more sinister, and perhaps more protracted, by the lights of perverted science. Let us therefore brace ourselves to our duties, and so bear ourselves that if the British Empire and its Commonwealth last for a thousand years, men will still say, This was their finest hour."
---


We Shall Fight Them On The Beaches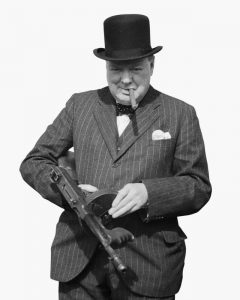 "We shall go on to the end, we shall fight in France, we shall fight on the seas and oceans, we shall fight with growing confidence and growing strength in the air, we shall defend our Island, whatever the cost may be, we shall fight on the beaches, we shall fight on the landing grounds, we shall fight in the fields and in the streets, we shall fight in the hills; we shall never surrender, and even if, which I do not for a moment believe, this Island or a large part of it were subjugated and starving, then our Empire beyond the seas, armed and guarded by the British Fleet, would carry on the struggle, until, in God's good time, the New World, with all its power and might, steps forth to the rescue and the liberation of the old."
This is one of the most famous Winston Churchill speeches
---

The Few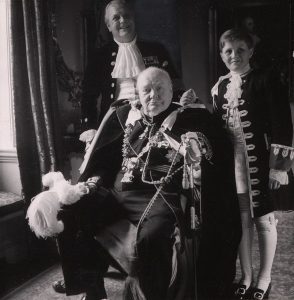 "The gratitude of every home in our Island, in our Empire, and indeed throughout the world, except in the abodes of the guilty, goes out to the British airmen who, undaunted by odds, unwearied in their constant challenge and mortal danger, are turning the tide of the World War by their prowess and by their devotion. Never in the field of human conflict was so much owed by so many to so few."
---

An Iron Curtain Has Descended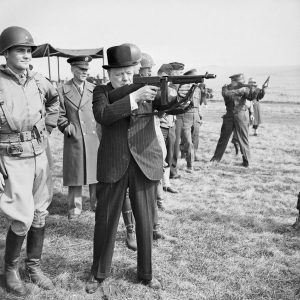 "From Stettin in the Baltic to Trieste in the Adriatic, an iron curtain has descended across the Continent. Behind that line lie all the capitals of the ancient states of Central and Eastern Europe. Warsaw, Berlin, Prague, Vienna, Budapest, Belgrade, Bucharest and Sofia, all these famous cities and the populations around them lie in what I must call the Soviet sphere."
---

Never Give In, Never, Never, Never
"You cannot tell from appearances how things will go. Sometimes imagination makes things out far worse than they are; yet without imagination not much can be done. Those people who are imaginative see many more dangers than perhaps exist; certainly many more than will happen; but then they must also pray to be given that extra courage to carry this far-reaching imagination. But for everyone, surely, what we have gone through in this period – I am addressing myself to the School – surely from this period of ten months this is the lesson: never give in, never give in, never, never, never, never-in nothing, great or small, large or petty – never give in except to convictions of honour and good sense. Never yield to force; never yield to the apparently overwhelming might of the enemy. We stood all alone a year ago, and to many countries it seemed that our account was closed, we were finished. All this tradition of ours, our songs, our School history, this part of the history of this country, were gone and finished and liquidated."
---

Be Ye Men Of Valour
"Having received His Majesty's commission, I have formed an Administration of men and women of every Party and of almost every point of view. We have differed and quarreled in the past, but now one bond unites us all: to wage war until victory is won, and never to surrender ourselves to servitude and shame, whatever the cost and the agony may be. This is one of the most awe-striking periods in the long history of France and Britain. It is also beyond doubt the most sublime. Side by side, unaided except by their kith and kin in the great Dominions and by the wide empires which rest beneath their shield — side by side the British and French peoples have advanced to rescue not only Europe but mankind from the foulest and most soul-destroying tyranny which has ever darkened and stained the pages of history. Behind them, behind us, behind the Armies and Fleets of Britain and France, gather a group of shattered States and bludgeoned races: the Czechs, the Poles, the Norwegians, the Danes, the Dutch, the Belgians — upon all of whom the long night of barbarism will descend, unbroken even by a star of hope, unless we conquer, as conquer we must, as conquer we shall."
"Today is Trinity Sunday. Centuries ago words were written to be a call and a spur to the faithful servants of truth and justice:
"Arm yourselves, and be ye men of valour, and be in readiness for the conflict; for it is better for us to perish in battle than to look upon the outrage of our nation and our altars. As the will of God is in Heaven, even so let it be."
---

Speech Addressing A Joint Session Of The US Congress
"Five or six years ago it would have been easy, without shedding a drop of blood, for the United States and Great Britain to have insisted on fulfilment of the disarmament clauses of the treaties which Germany signed after the Great War; that also would have been the opportunity for assuring to German those raw materials which we declared in the Atlantic Charter should not be denied to any nation, victor or vanquished. That chance has passed. It is gone. Prodigious hammer-strokes have been needed to bring us together again, or if you will allow me to use other language, I will say that he must indeed have a blind soul who cannot see that some great purpose and design is being worked out here below, of which we have the honour to be the faithful servants. It is not given to us to peer into the mysteries of the future. Still, I avow my hope and faith, sure and inviolate, that in the days to come the British and American peoples will for their own safety and for the good of all walk together side by side in majesty, injustice and in peace."
---

Never Despair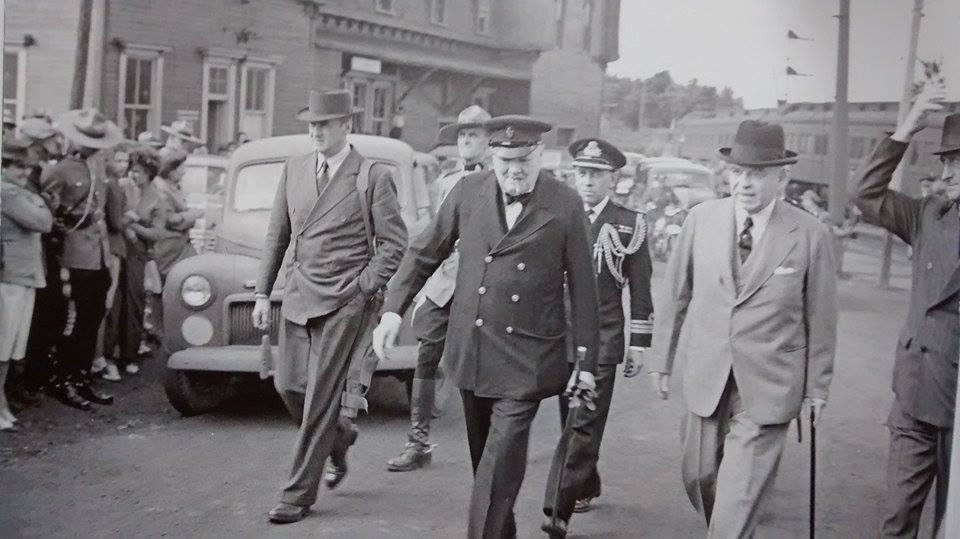 "To conclude: mercifully, there is time and hope if we combine patience and courage. All deterrents will improve and gain authority during the next ten years. By that time, the deterrent may well reach its acme and reap its final reward. The day may dawn when fair play, love for one's fellow-men, respect for justice and freedom, will enable tormented generations to march forth serene and triumphant from the hideous epoch in which we have to dwell. Meanwhile, never flinch, never weary, never despair."
This was the last of the great Winston Churchill speeches. He delivered it to the House of Commons, as a farewell.